As of v.2.6, Real Estate Script supports iCalendar export/import of the property bookings. When editing a property, choose to edit its bookings: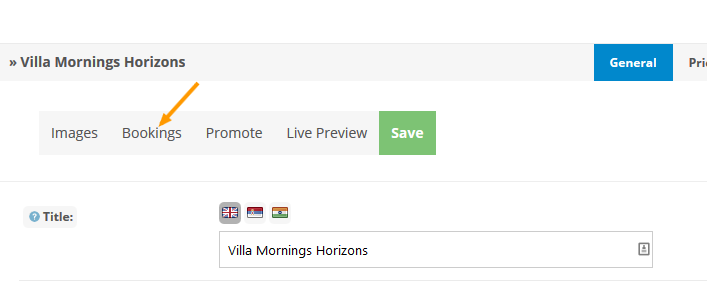 On the bookings page you will find two new options: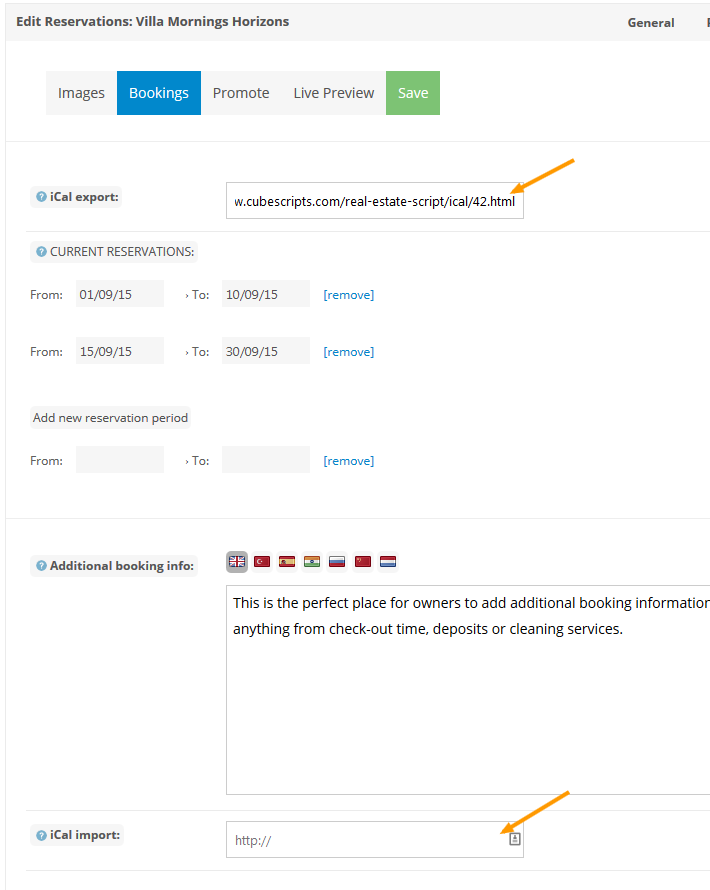 iCal export

This is a unique property link listing all approved reservations for that property in widely-used iCalendar format. If you open it in your browser it will ask you to download a file containing something like this:


BEGIN:VCALENDAR
VERSION:2.0
PRODID:-//RES//cubescripts.com//EN
BEGIN:VEVENT
DTEND:20150910T120000Z
DTSTAMP:20150825T114802Z
DTSTART:20150901T120000Z
SEQUENCE:0
STATUS:Confirmed
UID:20
SUMMARY:Booking ID 20
END:VEVENT
BEGIN:VEVENT
DTEND:20150930T120000Z
DTSTAMP:20150825T114802Z
DTSTART:20150915T120000Z
SEQUENCE:0
STATUS:Confirmed
UID:21
SUMMARY:Booking ID 21
END:VEVENT
END:VCALENDAR

This format is recognized by many popular calendar applications such as Google Calendar, Apple Calendar, Yahoo! Calendar, and so on, as well as some of the biggest real estate booking web sites such as airbnb.com or kigo.net

iCal import

This option does exactly opposite of the "iCal export" - it allows you to import external iCalendar into your property bookings. Simply paste your external iCalendar file URL into this field and the script will automatically import events from the calendar as property bookings.

Note that you need to set up a Cron job (or scheduled task) to automatically and continuously sync all your properties with their external iCalendars. On most unix-based operating systems the command to execute would be:


wget -O /dev/null http://www.yourwebsite.com/index.php/administration/icalimport/import


Set it up as a cron job and you get something like:


* * * * * wget -O /dev/null http://www.yourwebsite.com/index.php/administration/icalimport/import > /dev/null 2>&1

Of course, replace www.yourwebsite.com in the example above with your website domain name.

In widely popular cPanel, setting it up would look something like this: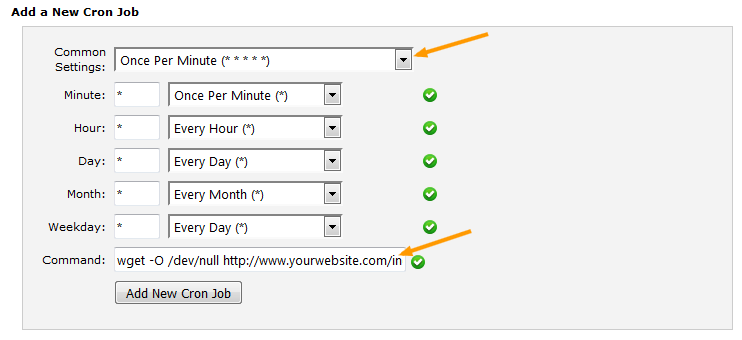 Feel free to contact our support if you need help setting up the cron job.